Building Blocks
Visualizing F. Bordewijk's Blokken
From September 2014 to 2017, I devoted most of my time to a mammoth task: the production of an elaborate comics project named Blokken ("Blocks"), a visual retelling of F. Bordewijk's 1931 sci-fi novella of the same name. Since only a Dutch language version of Blokken is currently in print, this Journal entry tries to uncover some of Blokken's content, offering background information about its original author Ferdinand Bordewijk and the work involved to bring his wordy otherworldly vision to life.
F. Bordewijk (1884–1965)

While virtually unknown internationally, Ferdinand Bordewijk (abbreviated to F. Bordewijk on most of his publications) is considered the most influential author of his generation in his native Holland, having received the P.C. Hooft Award in 1953 (Holland's most prestigious literary lifetime achievement award). Because of his cold-blooded style Bordewijk was frequently associated with the New Objectivity, a movement devoted to stripped down aesthetics and stylistic rigidity. But the striking graphic imagery and magical quality of his stories consistently marked him as a great man of letters. What sets Bordewijk apart from his peers as well as many Dutch authors that followed, is his exotic and highly idiosyncratic phraseology – a modern, minimalist, yet poetic take on the Dutch language known as the 'Reinforced Concrete' style. Among the Dutch literary landscape, a flat field devoted mainly to social-realist "kitchen-sinkness", his early novella Blokken has remained a towering and mysterious monolith.
Various sources of inspiration for Blokken: 1. Theo van Doesburg/Cornelis van Eesteren, Shopping Arcade (1924); 2. Theo van Doesburg/Cornelis van Eesteren, University Hall (1923); 3. Willi Baumeister, Draughtsman and Model (1913); 4. David Bomberg, Study for Vision of Ezekiel (ca. 1912).
Utopia or Dystopia
Central to Blokken is a futuristic and angular cityscape, controlled by a totalitarian system known as The State, a "society of impersonality". Its dehumanized citizens, all uniform-clad robotic "flat characters", are mere bystanders in this tragedy of grand proportions. Like the best among the science fiction genre, Blokken is a warning sign screaming "dangerous bends ahead". Undoubtedly conceived as a parable on dubious political projects, Blokken predicts in horrifying detail the rise of German fascism and its penchant for mass rituals and dehumanization. Nevertheless, the novel remains a timeless air due to its cool aloofness, ruthless abstraction and moral ambiguity. In addition, it deals with current issues such as the surveillance state and the impact of the lack of privacy on its citizens.
Blokken is a characteristically un-Dutch future vision – apart from Christiaan Huygen's 18th century interstellar fantasy Cosmotheoros, it's considered the only true example of Dutch science-fiction with some heft. Although it draws similarities to Brave New World, which Bordewijk dismissed as being "mere trash", Blokken was published three years ahead of Huxley's more famous work. However, the world described in Blokken is much more rigid and formal and Bordewijk's prose seems almost entirely concerned with staccato rhythms and abstraction, betraying a far-reaching influence of De Stijl, the Dutch touchstone of visual and literary modernism.
Selected early sketches for Blokken.
Visualizing The State
Blokken's The State operates under a motto of absolute efficiency and cleanliness: both key factors of the modernist ideal. Therefore, in visualizing this rigid world I felt it was appropriate to try and take onboard the entire artistic and architectural avant-garde of the twenties and thirties that the book associates itself with. This included the work of Dutch modernist Theo van Doesburg, but also Russian Constructivist projects, some primary examples of the Bauhaus and the British Vorticism movement.
Virtually every element of my visual retelling of Blokken is devoted to the interplay of strict geometry and circular shapes, rigid patterning and organic distortion, perfectly straight compositions and angled disruptions. These fundamental contrasts are reflected in the page lay-outs, inside the comic panels themselves, but also in the graphic design. The pages follow the rules of an unseen, but omnipresent formal grid system and the colours (obviously primaries) shift at regular intervals that coincide with the snaking story arc.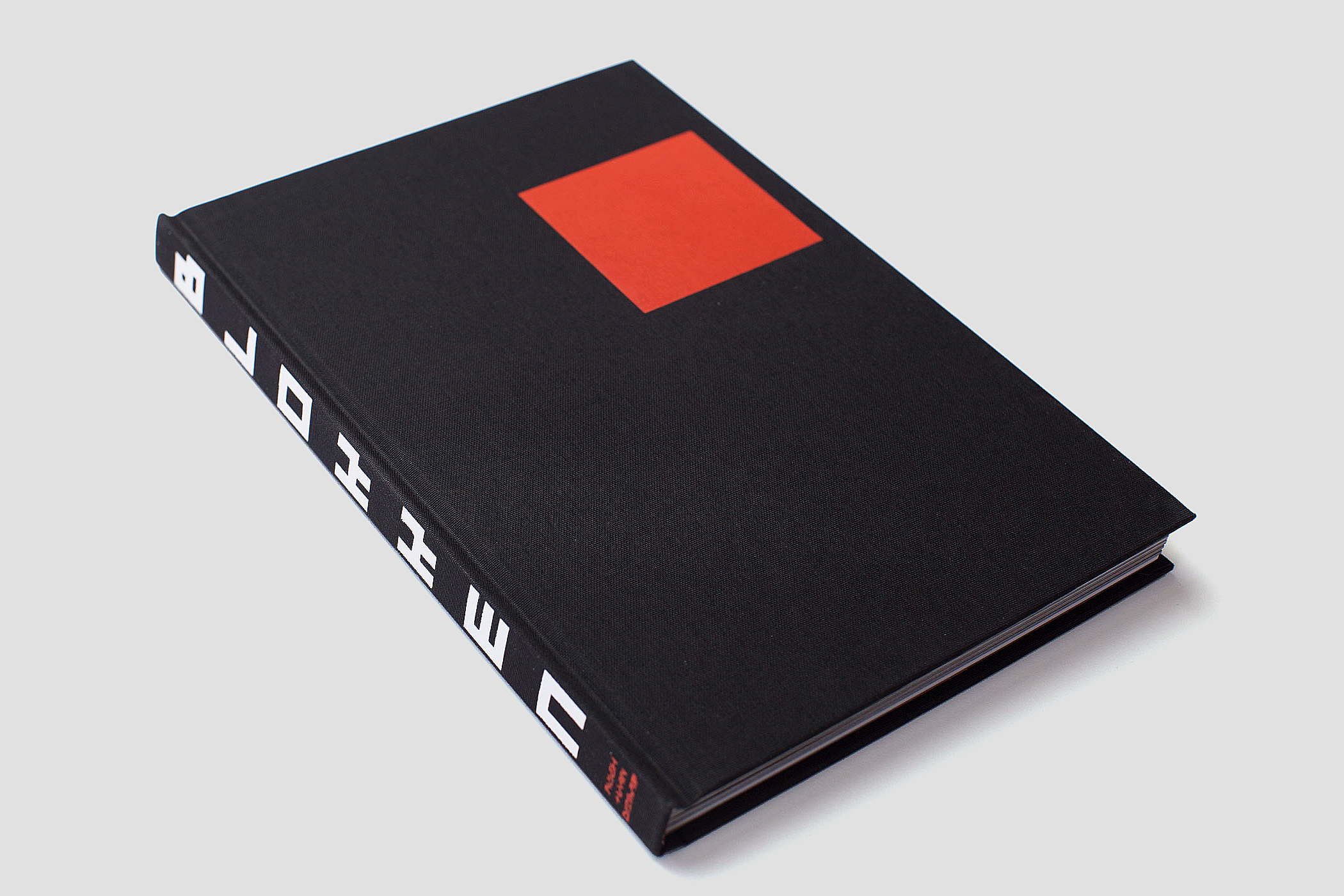 The linnen cover alludes to El Lissitzky's 1922 Constructivist children's book About Two Squares. photo: justina nekrašaite

Blokken – De mislukking van een heilstaat, F. Bordewijk & Viktor Hachmang
Published by Nijgh & Van Ditmar, Amsterdam, The Netherlands, April 2018
Hardcover, 112 pages, ISBN: 978-90-3880-512-2
buy


*