Arita Zuihitsu
Notes on the Process of Porcelain Production
In Summer of 2019 I travelled to the town of Arita, located on Kyushu, the Southern island of Japan, to join a three month residency programme, centering on the art of traditional Japanese art of porcelain making. Arita-yaki, as it is known in its native Japan, is considered to be the most high-quality type of porcelain. Unfortunately, the popularity of these highly prized objects is waining.This sparked the Creative Residency Arita programme, inviting Dutch artists and designers to innovate this ancient craft.
My work stems from a deep interest Japanese arts and aesthetics, from the elegant Japanese court art to the frantic pop visions of contemporary manga. Combined with my interest in ornamentation as a means of storytelling, I set out to design objects that bridged the gap between these "high" and "low cultures" and over the course of three months designed decorations that resonate with a Japanese as well as a Dutch audience, trying to connect these two hidden worlds of cultural symbolism.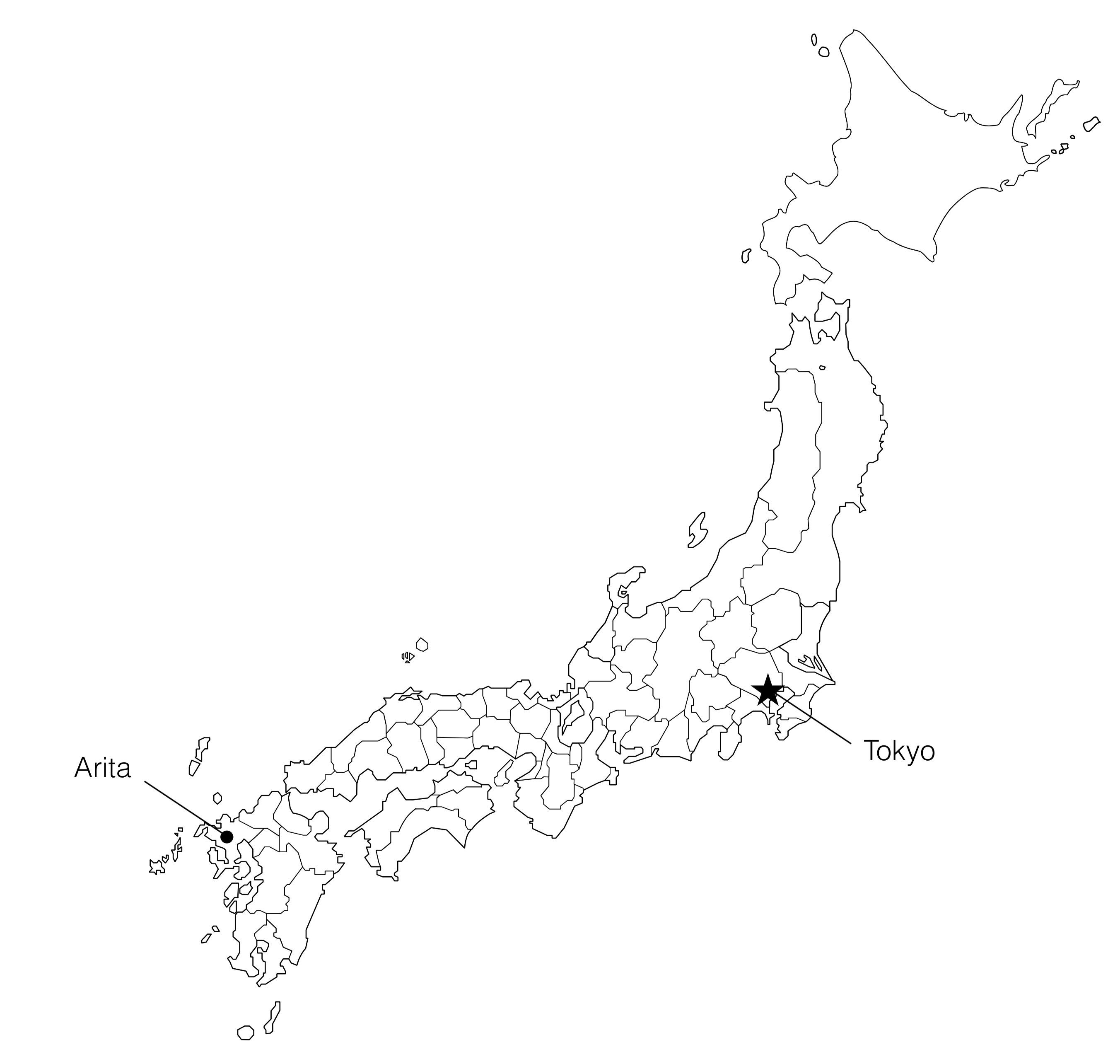 Arita
Arita is a small town on the Southern island of Kyushu that has dedicated itself entirely to the production of high quality porcelain goods, known as Arita-yaki or "Arita ware". It has done so for centuries, starting in 1616 when porcelain stone was first discovered at the local Izumiyama quarry, up to the present day. Arita ware is known the world over for its high quality decorations: elaborate hand painted motifs, some of which are interpretations of classic Chinese and Korean examples. These traditional depictions of animals (some of them mythical), plants and geometric patterns have been attributed with meaning over the course of centuries.
Among traditional Arita-yaki is a range of rare and highly prized pieces known as Nabeshima ware. Made during the Edo period and influenced by Japanese aesthetic ideals, these dishes were pieces of the highest quality produced exclusively for the aristocracy. Nabeshima ware employs homegrown design principles to striking effect, such as a dramatic use of negative space, heavy stylization and a preference for asymmetry. The anonymous designers drew from a variety of different art forms, such as kimono design and lacquer ware. A number of Nabeshima ware pieces from the Shibata Collection at the Kyushu Ceramic Museum became the starting point for my experiments in Arita.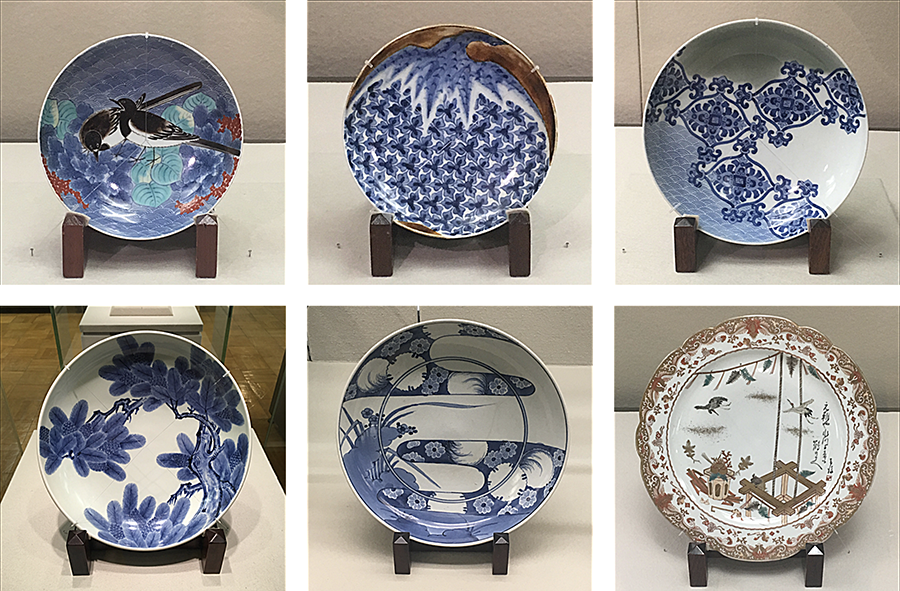 Nabeshima ware dishes from the Shibata Collection, Kyushu Ceramic Museum

A new material

In true Japanese fashion, studying a craft is a painstaking process – starting from the absolute bottom and slowly working your way up. To start off my project, I attended a three-week sengaki painting course – the traditional painting of underglaze outlines onto bisqueware. My enthusiastic and patient sensei mrs. Nagao introduced me to basic techniques of porcelain decoration, showing me the way through painting a carousel of traditional geometric patterns. By practicing on small biscuit fired dishes, I got acquainted to the indigo-blue gosu pigment. As Nagao-sensei pointed out to me: "Sengaki painting is not an art. It's a sport!"

Different stages of the underglaze and overglaze decoration process at Gen-emon. photo: gen-emon kiln


Gen-emon Kiln

Creative Residency Arita put me in contact with Gen-emon Kiln, one of Arita's most prestigious kilns, renowned for their lush handmade Ko-Imari ("Old Imari") style ceramics for more than 260 years. Working closely with Gen-emon's skilled experts (i.e. Gen-emon owner and designer Shoji Kaneko and lead painter Yokota Atsushi), we translated my designs into handmade ceramics of the highest quality.

The Tsuyu series, flat dish and ume ("pear blossom") bowl version. photo: gen-emon kiln



Tsuyu

One of these collaborative works is the Tsuyu series, a range of strictly handmade ceramics inspired by the Japanese rainy season. In Japanese art, it is tradition to infuse illustrations with seasonal references. I wanted to pay hommage to this convention, but experimented with a different way of denoting the seasonal aspect.

This specific design tries to convey the spirit of the Japanese monsoon in sequential form. It is deeply inspired by mid-century manga, even toting comic book screentones (envisioned as Gen-emon's distinctive plum blossom motif) and manga style onomatopoeia. (Interestingly, the Japanese language employs many different sound effects for specific types of rain!)

Large-scale display dish Intruder. photo: gen-emon kiln



Intruder

The Intruder display dish directly echoes a Nabeshima ware design from the Edo period. It features the auspicious tortoise shell pattern with an intertwined mukade, the ferocious Japanese centipede that is very common on the island of Kyushu. This creature is considered a real life yokai (ghost or monster from Japanese folklore) and is notoriously hard to kill. That's probably why the mukade came to symbolize evil in Japanese art. However, the mukade is also said to possess gold finding abilities: some say looters kept them as pets to detect abandoned gold mines in the Edo period... Unbeknownst to me at first, the mukade became a symbol of my own experience in Japan along the way: trying to worm my way into Japan's ancient aesthetics and getting entangled in the process.

Large-scale display dish Thieving Magpies. photo: gen-emon kiln



Thieving Magpies

Thieving Magpies is another large-scale display piece, made in collaboration with Gen-emon Kiln during my residency in Arita, Japan. This design also references a Nabeshima porcelain plate from the Edo period, featuring two magpies – the auspicious symbol of Saga Prefecture. In Western folklore however, the magpie is said to be obsessed with shiny objects, often stealing jewelry and such to adorn its nest.

This design refers to Japanese Kacho-ga ("bird and flower paintings"), poetic scenes from nature featuring seasonal aspects and often having metaphysical meanings.

In Japanese traditional art, nothing is without meaning or purpose. In this vein, the image on this plate suggests casting off earthly desires (such as money, jewelry) and to bask in nature's glory instead: the eternal shining disk of the moon, the Buddhist symbol of inner enlightenment.

Madori & Tensha

Apart from being known for its impressive hand painted decoration, Arita is also on the forefront of another specialized technique: the production of tensha. Tensha are water-slide decals–porcelain "stickers" screenprinted onto sheets of gummed paper. The starting point for these tesha-based works were madori ("windows"), a distinctive feature of many Arita-yaki pieces. Appearing in a wide variety of shapes, madori are frames that contain graphic elements, patterns or illustrations. Madori are frequently shown in combination with one another, making it a suitable device to tell complex stories within one graphic composition – an anticipation of manga, in my opinion.

The overglaze tensha process



My madori are filled with illustrations based on my direct surroundings in Saga, drawing inspiration from classical themes as well as the everyday, such as supermarket products and roadsigns. The designs of these plates are made using collage techniques: I transposed the production method of my comics (using handcut screen tone foil) onto ceramics. My illustrations were printed onto tensha and rearranged by hand onto the porcelain surface, thus creating unique one-of-a-kind pieces using a technique originally developed for mass production. By freely collaging and combining illustrations, abstract stories enfold, juxtaposing old and new, East and West.

*